Donate Food
On average, each week we're feeding over 400 adults and children in the Hutt Valley. That's a lot of food!
You can help to re-fill our shelves by donating food and other grocery items. There are several ways you can donate:
Pop a few items into the Foodbank Donation Bins when you're shopping at your local supermarket (New World Hutt City, PAK'nSAVE Lower Hutt and PAK'nSAVE Petone)
Place an online shopping order for delivery to the Foodbank during our opening hours
Organise a kai collection at your club, school, church or workplace and drop items off to us at the Foodbank during our opening hours
Sorry, we don't have enough volunteers to collect items from you.

Food and Groceries
Tinned vegetables such as corn, beans, peas, carrots, tomatoes
Tinned fish and canned meats
Tinned fruit
Tinned spaghetti and baked beans
Tinned soups and dried soup packets
Tea bags, coffee, milo and milk powder
Dried goods such as pasta, rice, noodles, flour and sugar
Biscuits, muesli bars and other snacks
Spreads such as jam, peanut butter and marmite
Household items such as bar soap, soap powder, toilet rolls, toothbrushes, toothpaste, shampoo etc
Baby food, baby milk formula, baby nappies and wipes
Fresh Goods
At the start of the week (Mondays and Tuesdays) we are grateful to receive fresh seasonal produce and bakery items to include in our food parcels. You can drop off excess homegrown fruit and vegetables, bread and other commercially baked goods to the Foodbank during our opening hours. Please do not place them in the supermarket donation bins as they are not cleared every day.
Food Producers
If you have excess stock such as end-of-the-line items, change of packaging, cancelled export orders, and short-dated stock we would love to hear from you. Please call Jane, our Service Co-ordinator on 04 568 7392 to arrange delivery.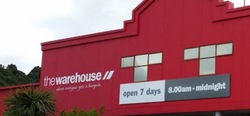 When The Warehouse Petone recently changed their store layout, they donated over $4000 of health and beauty products and baby items from their excess stock.